$1,000,000 Tax Debt Settled!
TaxRise saves over 99.99%
California – Clyde, a 79-year-old working part-time at a car wash, settles his $1,097,338.89 debt with the help of TaxRise.
Clyde Farley* is the archetypical example of what the IRS and State are willing to do when unpaid taxes are left unresolved.
In 2003, Clyde stopped working full-time. Gradually, Clyde began to accumulate tax debt because of years of unpaid back taxes.
His total liability slowly ballooned as daily interest and monthly late penalties were applied. At last, the IRS and State sent letters demanding payment.
Clyde could not immediately pay back the amounts the IRS and State were asking of him, so he agreed to enter into installment agreements with them both.
More time passed, more entities coerced Clyde into payment plans, and every penalty imaginable was deployed against him; levies, liens, and wage garnishments were all used.
In 2019, when Clyde finally sought the assistance of TaxRise, he owed well over a million dollars in tax debt.
TaxRise's Resolution Strategy
Along with his pension, social security benefits, and retirement, Clyde had to augment his income with part-time work at a car wash.
Nevertheless, the payment plans and garnishments were bleeding him dry – he didn't have anything left over to pay his rent or bills.
As soon as TaxRise received Clyde's case, our number one priority was to liberate him from these installment agreements. To do this, we would need to secure power of attorney and ultimately negotiate an offer in compromise (OIC) with the IRS examiners.
The IRS was stubborn, and it took our tax professionals some time to gain power of attorney for Clyde – a method used to halt collections.
Moreover, COVID-19 was plaguing small businesses and the IRS alike. Severely understaffed, an IRS agent told us that their OIC unit had a backlog of 90 plus days.
Despite these setbacks, our team of tax experts worked for a whole year with Clyde to prepare the best case possible to present before the IRS examiner.
Due to the skill of TaxRise, plus the cooperation of our client, Clyde's offer was accepted for $737! His $1,097,338.89 tax liability was settled for .0006% – saving over 99.99% and setting a new company record!
See Clyde's signed Offer in Compromise Below!
Be the next success story. Take our survey to see if you qualify for the Fresh Start program.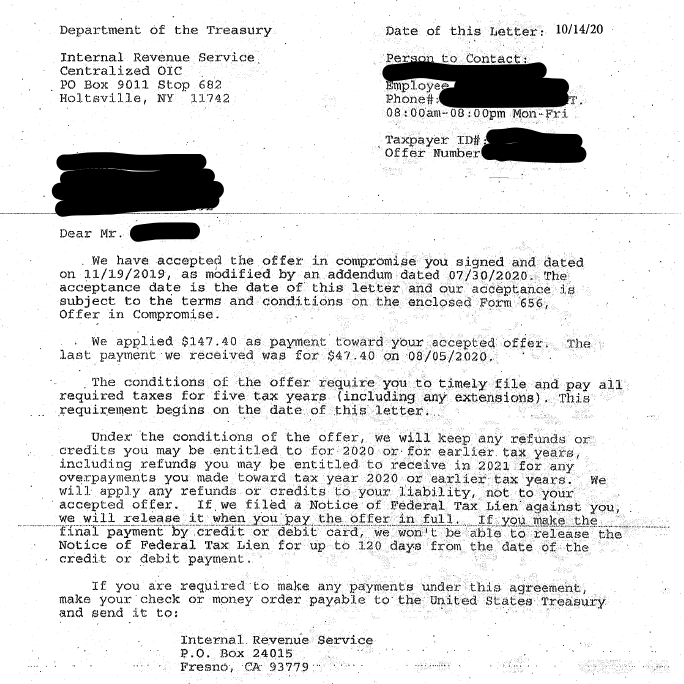 * Client's name changed for privacy.